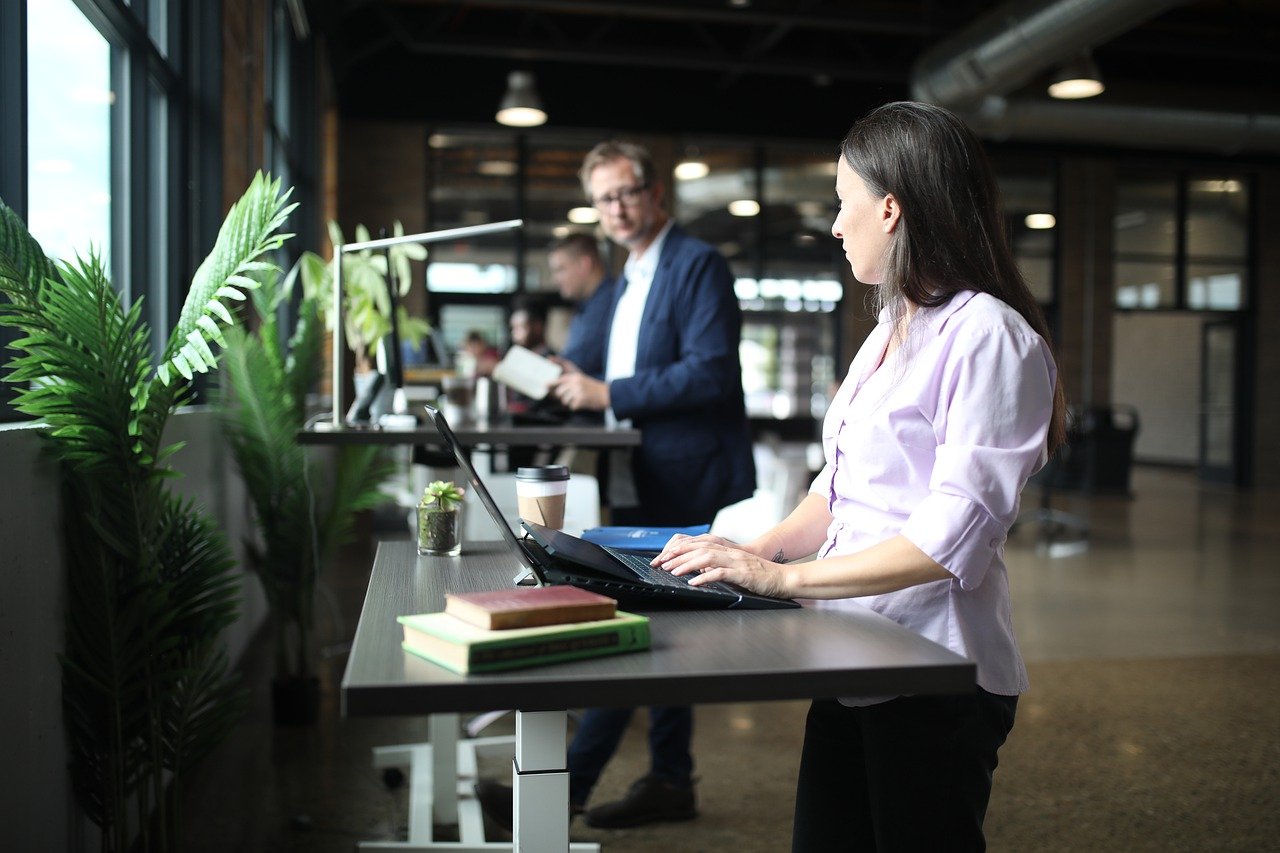 The furniture that we use every day has been evolving continuously in order to suit our lifestyle and health. This evolution has led to the creation of stand up desks which is better than traditional desks. Stand up desks are desks that can change from a sitting position to a standing position either mechanically or electrically with just a push of a button. Electric height adjustable stand up desks have several advantages. Studies suggest that using them lowers the risk of heart disease and weight gain, reduces shoulder and back pain and improves mood and productivity. Listed below is some of the best stand up desks.
NewHeights Elegante XT Standing Desks
The NewHeights Elegante XT Standing Desks are one of bestselling stand up desks in the market. Custom extruded aluminum columns, top class gear systems from Germany, overload and collision protection are some of its noteworthy qualities. This stand up desk may take a while to assemble but once done it is extremely stable and comes with a lifetime warranty. This product is a little expensive but it is worth the money because of it quality components and long warranty.
VertDesk v3 Sit Stand Desk
The VertDesk v3 Sit Stand Desk is one of the finest electric height adjustable stand up desks in the midrange price category costing about $588 dollars. This desk has features similar to the desks in high price range category but with limited load bearing capacity. The VertDesk v3 Sit Stand Desk is complete with German standard gears and motors along with steel columns having the feet and upper support welded together for a more stable desk top even at the maximum height. The premium GyroSense Technology used in this stand up desk provides good collision avoidance.
Uplift v2 Commercial Standing Desks
This stand up desk from the JieCang Linear Technology is the most stable desks manufactured by the company. This stand up desk has a traditional cross support system and is the only desk which can go as low as 22.6 inches height. Therefore, this desk is highly recommended for shorter people. It has a six – way accelerometer for collision protection and a system that engages at the maximum capacity in order to avoid overload. This desk is affordable and one of the best products available at this price. Head over to standingdesktopper.com for a more detailed description and review of stand-up desks.
VariDesk ProDesk 60 Electric
The VariDesk ProDesk 60 Electric stand up desk comes with a lot of pros which includes an attractive price. This desk boasts of a quick assembly process and takes a shorter time (5-6 minutes) as compared to the other electric stand up desks available in this range. Additionally, it has greater stability at low heights along with a wider adjustment range and programmable switch which makes this electric stand up desk a favorite among the customers. An easy return policy along with a five year warranty is included with the purchase.
Jarvis by Fully
This electric stand up desk was first introduced in 2013 and has undergone many changes since then to become a crowd favorite in its present form. It now uses a C-base switch instead of T-base switch and has a robust foot design made of steel which provides stability. It has a 26 inches adjustment range and can withstand loads up to 350 lbs. It now comes with a variety of tops that you can choose from and offers a 15 year warranty of electronics and frames. Suited best for an office or work from home environment, this desk is worth the investment.