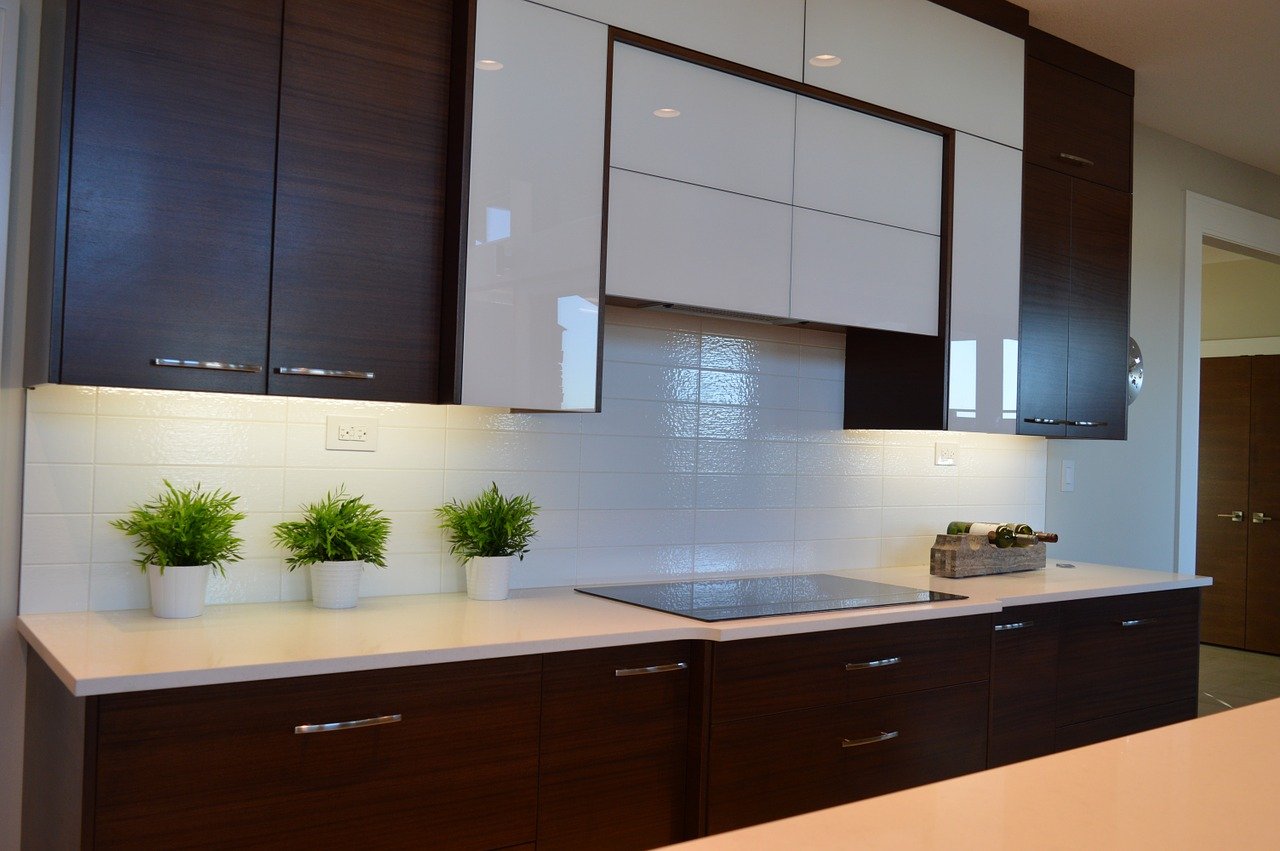 The kitchen is the most important room in your house and the busiest as well. It is the place that provides for our sustenance and therefore any person spending their time in the kitchen making meals or eating them should be and feel comfortable. The décor of your kitchen goes a long way in setting the ambience of it and therefore carefully choosing the colour pallet and the material for you kitchen is vital. One of the most popularly used materials in the kitchen are tiles. Tiles are extremely versatile because they come in a variety of patterns and colours and their smooth texture is such that it is very easy to maintain them. Any splatter or mess caused during cooking can be easily cleaned if you use tiles as a backsplash for your kitchen. Here are a few trendy tiles for kitchen for you to take inspiration from in case you are designing your kitchen or planning to renovate it.
Glass tiles
Glass tiles are ones which have a glass like sheen because of a thin layer of translucent glaze that if fired on top of each tile. They have a smooth finish which enables easy cleaning and are glossy in appearance that add extra shine to your kitchen backsplash. It reflects light and makes your kitchen appear brighter. They are available in various shades with the most popular one being white. If your kitchen does not have too much of natural light flowing in then glass tiles can be a good option for your kitchen.
Marble tiles
Marble is not exactly a ceramic tile but is being widely used these days and is one among the trendy tiles for kitchen. Marble tiles have grown in popularity since more and more people are opting for modern and sleek looking kitchen and marbles provide the simple yet elegant look to any space that they are used in. The entire marble stone is laser cut according to the wall space in your kitchen and installed carefully.
Patterned tiles
Patterned tiles are an excellent way to make your kitchen space appear vibrant and colourful. The number and varieties of patterned tiles available in the market are endless and you are sure to get one that matches your taste. Whether it is a contemporary white and blue Mediterranean floral pattern or angular geometric patterns, both look great as a kitchen backsplash and tend to add beauty to the space. Certain patterns with very intricate patterns give a royal look to the kitchen and are sure to bag you some compliments.
Tile stickers
One of the easiest ways to spruce up your kitchen is by the use of tile stickers. Tile stickers are peel able stickers that can be used on tiles. The kitchen sticker backsplash tile is available in various patterns and are extremely easy to apply. If you are tired of your old kitchen walls and want to renovate your kitchen without spending a bomb on retiling your walls then investing in tile stickers will be a good option. All you have to do is clean your tiles, peel and stick the tile stickers to give them a completely different look.
Subway tiles
Subway tiles are the classic rectangular glazed ceramic tile that resemble the tiles on the New York City subway station. They are the traditional choice for a kitchen that some people still opt for because of its versatility and elegance. Subway tiles allow you to play with the design. The original subway tiles installed in an unexpected pattern or the use of patterned subway tiles can really make a statement and make your kitchen look unique.